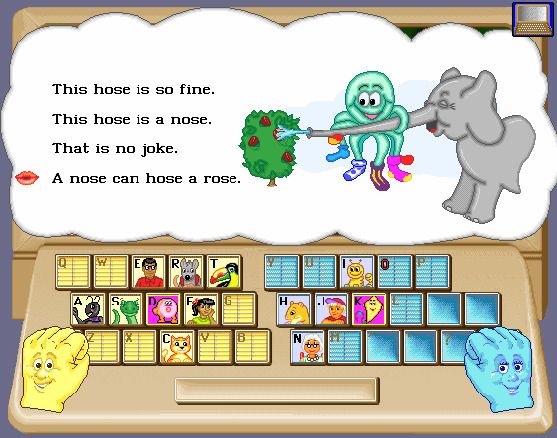 Normally I wouldn't be excited that I have two reviews due in one week. But when the product is a review for Read, Write & Type by Talking Fingers Inc., I really don't mind at all.
This program is exceptional. Truly amazing. And if you have a child between the ages of 6-8 you will want to read this review. (Or if you have a child with a learning disability or in need of ESL work, there really is no age limit!)
You will want to try out the free demo. And you will want to buy Read, Write & Type by Talking Fingers Inc.
When we first got tasked with reviewing Read, Write & Type I spent some time browsing the website, but I honestly did not understand the full scope of this program. I really thought it was mainly a typing program. We received a one year subscription for two users: Isaac and Sidge (both in first grade.)
I purchased a new keyboard (since the one I have been using for years has no letters on any of the keys!) and was excited for my first grade boys to get some experience with a computer and a keyboard. So much of learning is done on an iPad in this day and age, and therefore typing isn't as readily available.
But this program was SO much more than typing. I mean SO much more. I can't emphasize that enough. Let me say it again. I mean SO much more. And I honestly think I'll have trouble not getting up on a soap box as I explain why.
To understand the vision behind this program, I encourage you to read the biography of the developer of this program, Neuropsychologist Jeannine Herron. Seeing the alarming reports that reading instruction in our country was failing an alarming number of students, Dr. Herron took her belief that children needed phonics as well as whole language to master reading skills to a new level.
Dr. Herron explains her vision by saying:
"I want to change the way kids learn. Parents and teachers need to understand that reading and writing go hand in hand. In fact I think writing is the most powerful, the most active, and the most interesting way to become fluent at reading. Students often see writing as a chore. They have so many things to say, but the mechanics of writing slows them down and stifles their enthusiasm.
Read, Write & Type
makes writing easy. And seeing kids boost their reading scores time after time with this program convinces me that writing is an absolutely magical route to reading!"
We had access to the program for about one month before our review was due. I had my boys get on and use the program many days of the week -- every day if I could. And enticing to do so was easy. They enjoyed the program. In fact, when I asked my son Isaac what he thought of Read, Write & Type he actually said, "I like it. It's good. It's fun."
This might not seem like a big deal to you, but honestly, it is a HUGE DEAL for my son to say this. My boys do not readily say they like any aspect of education. No matter how fun things are, their responses are usually. "It's okay. It's not horrible. I don't like it very much. Do I have to? I hate that program. I don't want to do it. Please can I take a day off of that thing?"
But with Read, Write & Type they never gave me one bit of back-talk. And in fact, they argued over who was going to get to use the program first. Not exaggerating! Really!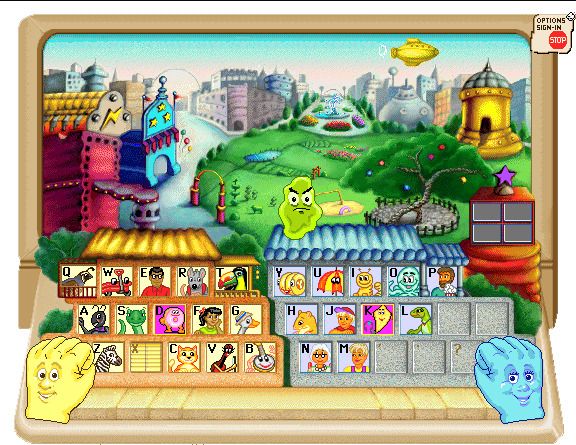 The program basically takes part in a "town." Here, there are a bunch of places for kids to learn. Learning sites include:
Video Store (Identify middle sounds)
Fair Booth (Identify ending sound)
Movie Theatre (Identify beginning sounds)
Power Foundation (Practice speed & accuracy)
E-mail Tower (Write & receive virtual e-mail)
The Park (Blend sounds together)
Story Tree (Type a story)
Hall of Fame (See certificates of progress)
Fandasa's House (Left handed storytellers)
Jack's House (Right handed storytellers)
Each time your child logs in, the program remembers where they are and simply picks up at the next place. In addition, they can browse the town and play different games as they would like as well. In our case, I received two licenses for the program, and each of my boys was given their own unique username and password. I am able to check in on how they are doing through my teacher log-in and see what they are accomplishing, struggling in, or excelling at. I can even control the time period that they are on each day or the days of the week they can play). You can set up your own pass level percentage as well and change it at any time.
So how does the program work? Basically
Read, Write & Type
is a revolutionary reading software which includes phonics, spelling, keyboarding, and word processing. They have special features for students with learning disabilities (LD), reading difficulties, or ESL. (We did not use these aspects of the program.)
The program is designed to help children learn to hear individual sounds in words and associate those sounds with a finger stroke on the keyboard. In addition, children are using their eyes, ears, mouths, and fingers. As homeschool moms, we are all about different learning styles. But do we really know how to reach our children with their particular learning style? The colorful characters, games, animations, and music help keep students engaged and motivated. (They really do!)
Here are a few more screen shots to hopefully show you what you are missing!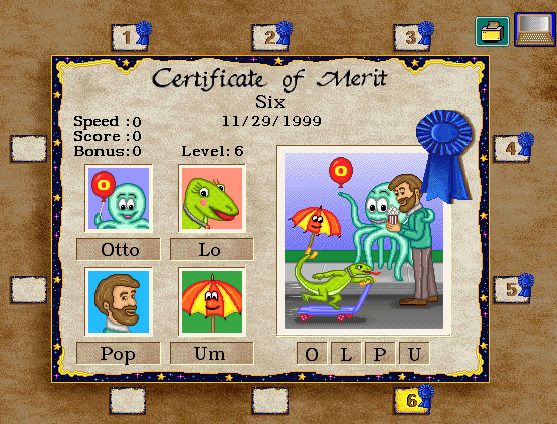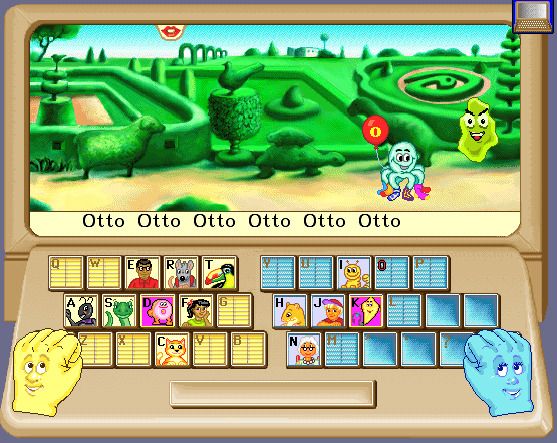 I'm not really sure why, anyone, would choose to not take advantage of the free demo for this program. Your student can do eight lessons completely free. In addition, there is a demo for adults too so that you can get a crash-course on what this whole program is about.
I review a lot of things that I like. Things that I think are good. But our homeschooling curriculum could easily replace it with something else. This is not one of those programs. We will be using this, daily and even through the summer. It will be an integral part of our curriculum, and I feel so lucky to have given the opportunity to obtain this program.
Read, Write & Type by Talking Fingers Inc., is a five year subscription. The online versions can be purchased without downloading any software!It is $35 for a single user, $55 for two users, $70 for three users, $85 for four users, and $100 for five users. (There is also an option to purchase CDs instead of doing it online.) This company also produces other programs that I am not familiar with but will be looking into.
I hope you will take the opportunity to try it out for yourself. I promise you. You will not be disappointed, and your kids will like doing it!