My five-year-old Abigail and I had the opportunity to review a very fun new online version of the phonics program: Talking Shapes: A Supplemental Curriculum for Early Literacy from Talking Fingers Inc.
This is an incredibly FUN program. Abigail really enjoyed doing it, and I will definitely use this program with Hannah as well.
(Please note that while this link is for the app. version of this program, Abigail and I reviewed the online program for this particular program.)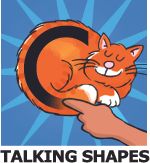 Talking Shapes is a set of seven stories (which include lots of games!) for learning to read and write. It was designed for 4-5 years old. It operates on the premise that letters are shapes that talk, invented to change the sounds in spoken words into shapes that we can see. It is designed as a pre-school or kindergarten curriculum. Abigail is going into pre-k, and I thought this was a perfect age for this program!
As stated on their website, "Reading research shows conclusively that skilled reading is based on speech. Children need to understand that their mouths make different sounds when they say a word (phone awareness) and that letters stand for those sounds (phonics.) ... The best way to develop these connections in the brain is to learn a few sound-letter links at a time and construct different words that use the same letters."
The program begins by logging in. There is one log-in that gets Abigail into the program. On the main screen are seven book options. The books ahead of her in line are greyed out. So for example, Book One is the only book available when she starts the program. However, now that she is about halfway through the program, she can go into any of the books she has previously done.
The first book was called The Fat Cat. It tells the fictional story of two sisters who invented the alphabet. Each book presents several letters and words. For example, The Fat Cat teachers FAT, CAT, SAT, and HAT.
After Abigail listened to the story, there are games and activities that help teach her the letters and words for that particular book. The story concludes with a fun song to help the student remember what she just learned in that lesson.
Here is a picture of Abigail watching the story presented at the start of Book One.
And here is a screen shot of the story that comes up on the screen during the first part of the program: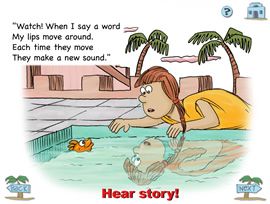 After the story for each book is concluded, it was time to start games to apply what they just learned. Here is Abigail participating in one of the games:
And here are some screen shots of the games. One of the games involves using the mouse to trace the letters she has learned in that book: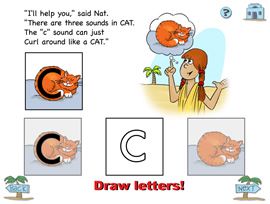 Here is another game where Abigail has to pop a balloon that will fill in each line of the story:
In this case, Abigail spells words using the shapes. For example, in this picture below, she spells the word "CAT" by putting in three shapes that look like the letter:
I have only two very small complaints about the program. The first is that it takes a little while to load up. This is a minor inconvenience, and honestly, makes me think how far technology has come. I remember vividly waiting for my hotmail to load early in my adult life while reading a book between loads. This programs takes about 10 more seconds than programs online traditionally do which is a small thing. In addition, I believe they are coming out with an app for this program which should make this small nuance obsolete.
The second issue is that the tracing of the letters was a little challenging using a mouse. Again, this is a small thing, and Abigail, despite not being on the computer very much yet, was able to easily overcome the problem and figure out how to do it. And again, an iPad app. would eliminate this problem.
Overall, my review for this program could only be positive and glowing. It is in an incredibly well-done and well-researched, headed by noted neurologist Dr. Jeannine Herron. As students participate in the program they:
learn that spoken words are made of individual sounds (phoneme awareness)
learn that the letters stand for these sounds (phonics.)
learn to draw these letters.
learn how to sound-out and write these 3-letter words.
We were right in the middle of learning to read when we were given the opportunity to review this program. Abigail is thriving in learning to read, and I believe that program has played a substantial role in what she has learned!
Please take a moment to check out this incredibly fun program on
Facebook
,
YouTube
, or
Twitter.