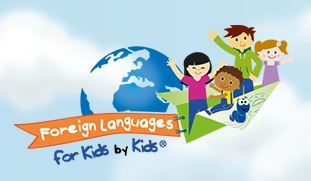 We really wanted to introduce our children to a foreign language. While I would have loved for it to be Turkish -- a language that I worked on a lot in Turkey (and the boys had begun picking up) -- we knew that now that we are back in the USA, Spanish would be a better option. For that reason, I jumped at the chance to allow my children to review
Starter Set 1
from
Foreign Languages for Kids by Kids.
I was originally planning on just using this with my starting-second-grade boys. However, my pre-K daughter really got into it too and jumped in for the lessons. She actually seemed to embrace it the most, and within just a week, was walking around the house using the words she'd picked up from the videos.
Here's a picture of two of my kiddos watching one of the videos:
Here's how these videos work. In this video series, all my kiddos do is sit down and watch a video. They listen to other kids speaking Spanish in relevant life-like situations. The storyline is lively and humorous. My kids liked watching it and liked following what is going on. (And everyone can remember things that are funny!) They are speaking all Spanish, but my English-speaking kids can follow what is going on.
The first time we watched it, my niece and nephew (ages 13 and 10) were also in attendance. They really got into it as well. What I was most amazed by was that after only one lesson, my kids were trying to use the words in every day conversation in our house. They were very aware of what the words meant and how they would be incorporated in every day conversation. In fact, that is the "trick" with these videos. My kids are learning the language by observing and seeing the language in real-time usage. And while my second-grade boys were fans, it was actually my pre-K daughter that seemed to be trying the words most of all.
Starter Set 1
included three different videos (all around 15 minutes in length). Each of the videos included a teacher workbook and then a workbook for the kids. The package also included flashcards, stickers, and a game.
And here's what I really love! To accommodate different learning styles and preferences, the videos are supplemented by a variety of
optional
activities. This means that if all you want to do is let the kids watch the videos, you can totally do that. But if you want to branch out and use some of the other materials you can do that as well.
We actually did a combination of this. Some of the activities we did. Others we skipped. We used the stickers. We did not use the board game (yet). We used the flashcards. We did what worked for us as we did the program.
I absolutely LOVED this Spanish program. But what I love the most, as with any curriculum I use with my kiddos is how much
they
liked the program. That is HUGE to me. If my kiddos are complaining, a school day is not fun for me. I really try to find things that they enjoy. And when three out of three participating children say "Yes! We love to watch the Spanish videos!" I am UBER happy!
Please take a moment to jump over to
Facebook
and check out the
Foreign Languages for Kids by Kids.
I promise you will not be disappointed in this program. But if you aren't sure, you can sign-up for a FREE 48-hour trial membership! This means you really don't have
anything
to lose!