How excited we were to get the opportunity to review Smoky Mountains ~ Here We Come! from the By the Way Book Series.
When the opportunity to review a book on the mountains surrounding the farm we now live on, I jumped at the chance. Written by Joy Budensiek and backed up by an incredible team of designers, coordinators, and artists, By the Way was born from the shock of a simple statement by Dr. Jeff Myers of Summit Ministries:
"19 out of 20 Christian parents and grandparents do not talk to their children about God and spiritual truths in their daily lives."
Joy and her team wanted to change that number. They wanted to create positive conversations within Christian homes. And that is exactly what they did. This book was 48-pages of actual photography mixed with artistic illustrations, as illustrated on the cover to the book shown below: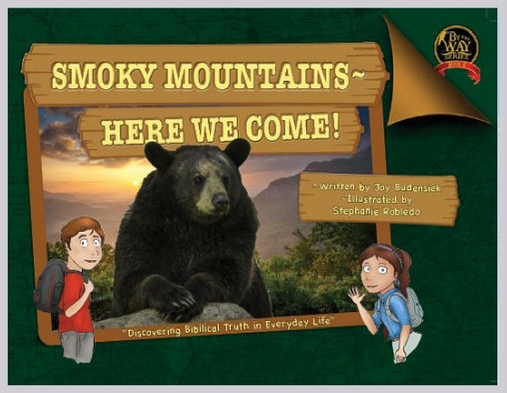 On the inside cover of the book, the scripture from Psalm 32:8 is included:
I will instruct thee and teach thee in the way which thou shalt go: I will guide thee with mine eye.
There is then a letter from the
By the Way
team which includes a note about Deuteronomy 6:7 and the directive to diligently talk about God and share with future generations as we sit in our homes. The purpose behind these books is to present one gigantic teaching classroom where faith is passed from one generation to another.
The
By the Way
series strives to do this by providing: (1) Information (2) Integrated (3) Intentional and (4) Inspirational educational materials for children.
Smoky Mountains ~ Here We Come!
follows the story of Lexi and Alex -- brother and sister spending three days with their Uncle Ted -- a forrest ranger in the beautiful Smoky Mountains. Throughout the pages of the book, they travel from place to place throughout the mountains. They meet people and animals that live in the woods. However, aside from the story, each page incorporates fun facts about animals or weather for instance. There are also Bible verses and lyrics to hymns as well. There is history and facts and "Did you Know?" sections.
Take a look of my five-year-old daughter sharing two of her favorite pages with her three-year-old sister. While my girls enjoyed the book, it was my second grade boys that really got into it!
Florida's Treasure Coast (This would be my second choice since this is the state I grew up in!)
Pennsylvania
Ohio
Washington
Colorado
They are also currently working on books on Ireland, New York, Idaho, and Indiana!
I love supporting people who are trying to help me become a better mom and educator. This is not just for homeschooled kids -- everyone would benefit from having these types of books in their library. And, as always, feel free to email me at flakymn@hotmail.com for more information or to ask additional questions.