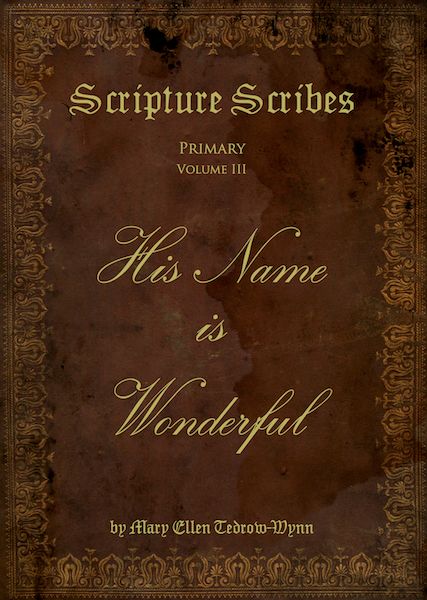 His Name is Wonderful from the Scripture Scribes Series from Laurelwood Books is the perfect homeschool penmanship book to improve CURSIVE handwriting! This is just one of four books available from the Scripture Scribes Series that I was given the opportunity to review. Other titles include:
As this consumable workbook says on the back cover:
Long ago ...
God gave us His Holy Word, and learned men painstakingly copied it so we would have it today. We have given you His Word in several versions so you can READ it, WRITE it, and THINK of it.
"I have hidden your word in my heart that I might not sin against you." (Psalm 119:11 NIV)
There are many schools of thought when it comes to teaching cursive. Some people aren't doing it at all. Some are doing it young. Some are doing it old. I actually decided that I will start cursive once my boys are printing really well. And we are not anywhere near close to really well right now. I'm currently thinking maybe 3rd grade.
I received this book for my first grade boys. Unfortunately, due to my error, I thought this was a print handwriting practice book. In fact, it was cursive, and my boys are not learning cursive yet. I therefore checked out the book myself, trying out some of the pages (as you can see above) and had some of our visiting friends and family who were in elementary school, check out the book for me and go their opinions.
This workbook does not require much explanation. Each day includes a scripture and then practice is provided. The practice allows you to trace, as I am doing in the picture above. And then it provides a blank line that you can work on what you just traced.
Each time you trace, you first trace a name of God and then you trace a scripture. For example, Page 9 in the workbook says:
The Everlasting God
"Have you not heard? The LORD is the everlasting God.
Isaiah 40:28
You can then trace The Everlasting God. Then there is a blank line where you can rewrite it. The second tracing exercise is Have you not heard? Then a blank line is provided.
Some of the names of God that kids will trace include: the Son of God, the True God, My Shepherd, My Teacher, My Lord and Master, My Helper, My Hope, My Rock and my Fortress, The Light of the World, The Lamb of God, and the Alpha and the Omega.
I love that kids are encouraged to practice their handwriting with scripture. I can't imagine anything better to put into your heart. While I used this book to try it out, I am saving the rest of it for my boys to use as they get older. It is a great tool and priced very reasonably at under $20.
You can also check
Laurelwood Books
out on Facebook by
clicking here.