If you, like me, struggle with how to incorporate art into your homeschool curriculum, I have the PERFECT product for you. Folks, we LOVED using this product in our home. My kids begged to do it everyday. This includes the boys (who are in school), and my nearly five-year-old who won't be in school for another year. Even my two-year-old-hurricane jumped in on some of the projects. My kids have absolutely been ecstatic about the lessons from the Entire Level I from ArtAchieve.
As you get older, who you were in your "past life" becomes more and more of a distant memory. This is true for our family. My husband attended the Fort Lauderdale Art Institute and worked as a graphic designer for five years. He is a very good artist. (People who have had him as a doctor can attest to this because he is famous for drawing pictures on that paper they put on the beds in your exam room to explain what your "situation" is). He actually ran his own business while he put himself back through undergrad and went pre-med to the Mayo Clinic.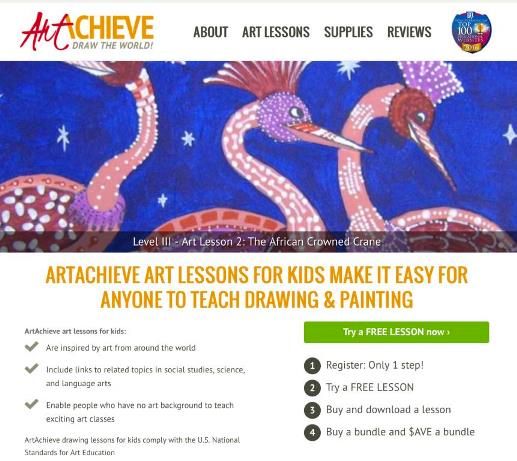 We always thought he would be in charge of art in our family as we homeschooled. But intentions don't always go as planned and with working full-time out of the home as an emergency medicine physician and running our farm during his "free" time, this just hasn't been the case.
So when I saw an opportunity to review an art product, I was pumped!
But I had no idea how pumped my kids would be. They absolutely LOVED this product.
This program is SO simple. You simply open up a PowerPoint presentation on your computer and click through.
First up for us were the Hungarian Insects. I loved how each lessons started with a little bit of basic science or history of what we were going to do. Just a few pages to create reference for what it is they were going to be drawing.
After that it was time for a warm-up which we were able to print right off on our printer. We actually did this with all the kids (even my two-year-old tried), our WWOOFer at the time, Emily, and my mother-in-law. Everyone really enjoyed this. This was a simple picture that you can color. The PowerPoint presentation encouraged you to pick out some music that fit the mood (which my musical son Isaac loved) and we were off. It was an incredibly peaceful half-hour at our house with no one fighting and everyone having a good time. (Even me!)
(This does not happen often!)
Following the warm-up, it was time to get started drawing. This was how my kids typically worked on our projects:
And here was the final project of our first attempt at
ArtAchieve.
I don't think it is too shabby for a 4, 7, and 8 year old. These are their Hun
One of our very favorite projects was
The Kitenge Tree Wall Hanging from Tanzania.
First the kiddos worked step-by-step to draw a tree on their paper. Then we crinkled it up and painted it with acrylic paint. They had so much fun doing these pictures, and I was so amazed with how well they turned out.
Folks I cannot right a strong enough review in favor of this awesome product. Whenever I find something that ALL of my kids like, I am immediately a huge fan. But add to it something that I actually enjoyed as well, and you have a fan for life! This brought joy to our house and provided entertainment, education, and enjoyment all rolled into one.
If you aren't completely sold by my review, I encourage you to consider buying just one of the lessons (which you can do for about $4). The entire package is priced very reasonably at $27. (There are different prices for different levels -- I am just speaking out my level here.) But trust me, this is worth it!
You can check out
ArtAchieve
on
Facebook
,
Twitter
(@artachieve),
Pinterest
,
Google+
, or
Instagram
. Or, you can check out some reviews from my fellow Schoolhouse Review Crew Compadres by clicking the link below: