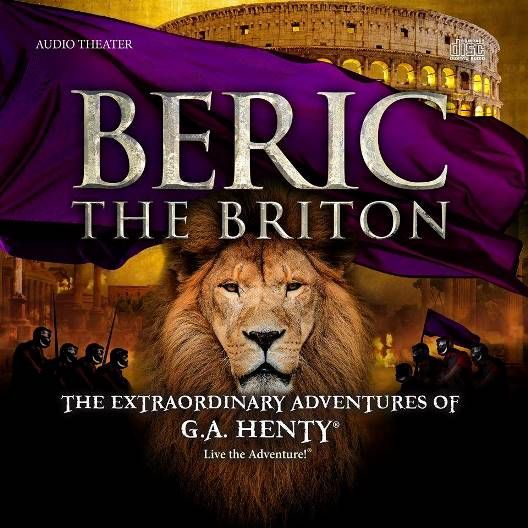 We had a fantastic opportunity to listen to
Beric the Briton
from
Heirloom Audio Productions, and I can't wait to share how this worked for our family! If you have children in middle elementary and into high school grades, you are going to want to check out this (and their other!) audio presentations.
Featuring over two hours of incredible acting, this is a story of grace, sacrifice, and redemption. Take a look at the incredible list of individuals who worked on this audio production:
Brian Blessed (Star Wars, Tarzan, King Lear)
Brian Cox (The Bourne Identity, Braveheart)
Tom Baker (Dr. Who)
Honeysuckle Weeks (Foyle's War)
Cathy Sara (Downtown Abbey)
John Rhys-Davies (The Lord of the Rings, Indiana Jones)
So let me share how this worked for our family! Firstly, I decided to just sit my three oldest children (ages 4, 7, and 8) to listen to the production. I'll be honest. I didn't sit with them. I was busy cleaning up after dinner and giving my toddler a bath, and was just doing the busy-mom-thing. About thirty minutes in, all the kiddos told me that they didn't like it and couldn't follow what was going on.
I kept telling myself that I would sit down and listen
with
them, but I ended up running out of time as the date for my review neared. About the time I was stressing about finding the time to do this, my husband was taking a road trip with my 7-year-old, Sidge, and decided to take
Beric the Briton with him on the road.
And they loved it. I mean they absolutely had a blast! Here are two pictures of them listening to it on the road:
So while I am writing this review, it is my husband who is actually the "brains behind the operation." The website says that it is: "Designed for Kids 6-16 .... But loved by listeners of all ages." My husband feels that a better age range for this program is 10-99! Sidge is a pretty sharp kid, but he required John to do a lot of explaining. With the explaining, he absolutely loved listening to the play! If you had multiple kids, stopping to explain could be troubling if you, like me, have one child who asks a lot of questions and another child who gets very frustrated by a lot of questions.
This is a 2-CD "Active Listening" Audio Adventure which will captivate your child's imagination for over two hours. In addition, by purchasing this program ($27.97), you receive a ton of other exciting extras including:
Beric the Briton E-book

Official MP3 Soundrack

Printable Cast Poster

Study Guide & Discussion

Inspirational Verse Poster

Live the Adventure Letter

Behind the Scenes Video
I wanted to take the opportunity to specifically talk about the Study Guide & Discussion. This is a 50-page document which features a question worksheet on every track, history-learning guides, and story-related Bible study. It was actually designed by Christian educators as a complete story curriculum to supplement
Beric the Briton
.
In my opinion this guide is a little too advanced for my boys to do by themselves, but they could definitely work through it with an adult.
Please take a moment to check out this amazing program on Facebook, Twitter, Google+, and Instagram (@HeirloomAudioOfficial).
You can also listen to a summary of the story here.
Jb has told me that I absolutely must sit down with my kiddos and listen. My husband is a voracious reader and a watcher of all kinds of movies, and he said that this one was incredibly well done and that he was amazingly impressed.
Don't miss this opportunity!