I received this email from the Senator of the State of Florida, Bill Nelson. (Florida is currently our state of record despite being out of the country. It is the state we can vote in.) I thought it was a great reminder of why we all have off of work on Monday and are celebrating a holiday. 1.3 million men and women have given their life so that we can be free. Over a million families have grieve and are grieving the loss of someone they love so we can be free. Please join me today in helping honor them.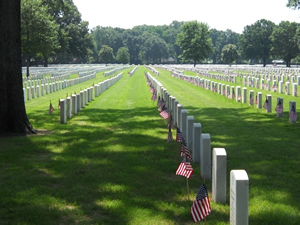 Photo: Grounds Maintenance, Jacksonville National Cemetery
On Monday, at cemeteries large and small, veterans and volunteers will be placing American flags along seemingly endless rows of headstones.
One such headstone, at Arlington National Cemetery, marks the grave of Susan Shulman's father. The Boca Raton, Florida woman recently sent me a brief note in which she wrote that she plans to observe this Memorial Day at Arlington with her children, knowing that her father's "service and sacrifice" is being honored with dignity in "our nation's most hallowed ground."
All across the nation this Memorial Day, millions of Americans will be paying tribute to 1.3 million fathers and mothers, sons and daughters, brothers and sisters, relatives and friends who we've lost in wars and battles since our country was founded nearly 236 years ago.
I hope you take some time Monday to remember, and to thank those who have given their all.