Okay so I have to admit I was a bit skeptical about an email for my kids. They are young. The Internet is risky. How safe could it be? But I tell you what: we were BLOWN AWAY by the Annual Subscription we received to KidsEmail.org. This is definitely a program we will be using to help safely introduce my children to the wonderful side of technology for years to come.
I allowed both of my boys (ages 8 and 7) to have an account. I set up the account for them. What I most loved about this was amount of safety settings I was able to institute for my kiddos.
I decided to pick seven people they could email. I added the email addresses of the people that they could email. I included their three grandmothers, one aunt, their dad, me, and their brother. That's it. I was then allowed to determine the following things:
Receive mail from contact list only?
Send email to contact list only?
Allow child to edit contact list?
Send a parent a copy of incoming email?
Allow images from incoming emails?
Allow links in received emails?
Allow attachments?
Allow bad words in received email?
Add tagline to bottom of message?
Send email sender a notification when email goes to the mail queue?
I also had the option to install time restrictions (what time of day they can get on, what days of the week, etc.) I could also ground them from the program! How amazing is that? (And I can set up a custom message when I ground them!)
I decided to only allow them to receive email from those seven people. They could not edit the list. They could not get images, links, or attachments. And I obviously outlawed bad words too. I opted to not receive a copy of the messages (mail monitoring) they sent simply because I truly trusted their list of seven people.
There was also an option to block certain senders. If my kids were old enough, I could add a GPS tracker so I can see where they are! Wowzers. Seriously folks. There were so many amazing things I could do.
And then my boys started emailing. Here is a sample picture of what their screen looks like: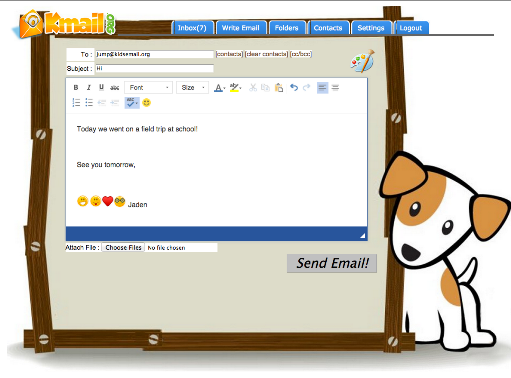 And here is a picture of Isaac on his email page. While both my boys greatly enjoyed the program (and were able to log on and do this themselves), my older son really got into it. Isaac absolutely LOVED emailing and was able to log-on and write emails without any help from me.
Okay here's what I love tons too. YOU can partake in a free trial of this program. The trial is 30 days and for ONCE they are not going to automatically bill you when the free period is over. (I really hate when companies do that! It totally seems like they are taking advantage of our busy lives and the fact that we will probably forget to change our status.)
If you decided you wanted to keep going, you can pay monthly ($4.95) which includes four email accounts. Or, if you just get it for a year, it is only $3 a month which includes up to 6 email accounts. This means that for your whole family to use the program it is $38.95 a year. VERY reasonable. And honestly folks, this is SO worth it!!
Please take a moment to visit this company around social media: