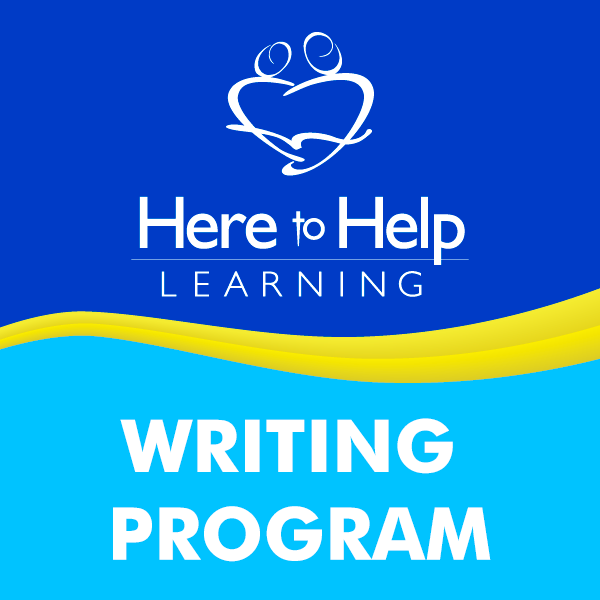 I am a high school English teacher by trade. And I've worked as a writer and an editor for many years as well. I love the written word. Love to blog. But how in the world do I teach my children how to write? I realized I had no earthly idea. Enter ... a chance to review a fantastic homeschool curriculum for writing:
Here to Help Learning.
I was so blessed to have the opportunity to use this new homeschool writing curriculum in our homeschool classroom. I worked through: "Teacher's Kit Flight 1 (Paragraph) Writing: from
Here to Help Learning
with my first grade boys (age 7).
Here to Help Learning
is an online Christian-based program that teaches children how to write. There is an airline "bit" that is incorporated so the different lessons are called "Flights."
Flight 1, 2, and 3 paragraph writing is for grades 1-3.
Flight 1, 2, and 3 Essay writing is billed for grades 4-6.
You can decide where your child "fits in" when you get the program. Since my boys are only in 1st grade and haven't done much writing at all, we started with Flight 1 Paragraph Writing -- the lowest level they offer. While I think it is helpful if your child is able to spell and write words before beginning this stage, the program is set up so that if they aren't, you could still begin doing this with your child using dictation instead of actually having them write. I think my boys were
just
barely able to start this program so I think listing it for 1st grade is a correct starting point. And I think starting it with kindergarten or 2nd grade students could also work fine depending on your student. In addition, if your child is older, you can easily jump into the program.
Here are the boys watching their intro video for the very first time:
The concept is simple. You print the worksheets that parallel with that lesson and then simply click on the next video in order.
However, there are a few things I find important to note. This it not a video for your kid/s to do without you present. You can't just turn it on and leave the room and allow them to do it independently. This may change as the children get older but for my boys doing the first flight, they needed me to walk alongside them closely as they worked. We often set up in the living room, watched the videos, and then moved to the kitchen table to do any writing that needed to be done. (Doing it on an iPAD at their desks would have also worked, but they like watching things on a big screen.)
Watching the video with worksheets in hand. (Notice that it couldn't have been too boring because my four-year old is eavesdropping in the background and both boys are actually watching!)
Sitting down to work on our packet.
There are a lot of things that I paused the video to expand upon. There are many moments that the students are told to pause the video to discuss something in their own "classroom" at home.
The videos are not hollywood-level performances, but they are organized and well done. And while Mrs. Mora is a little corny at times (especially in the opening airline "bit"), the boys found her funny and engaging even though I might have found her a bit over the top now and then. The boys never seemed bored despite the fact that there was a lot of talking that going on.
The teacher, Ms. Mora
When Ms. Mora was teaching them about webbing, she sat down herself at a desk and wrote down her own concepts for her webbing. These concepts then, on the screen, jumped into appropriate bubbles that the kids could watch and follow along with.
Mrs. Mora also spends part of the lesson in her own classroom with about 6-10 students who are demonstrating how these writing techniques look in the real world. I think it was helpful for my boys to see other kids doing this, especially because they are homeschooled and really don't have a solid concept of the fact that every child in America is going to school of some sort. In other words, what I am asking them to learn it not unique to them.
At the conclusion of each lesson, Mrs. Mora's basset hound "Knucklehead" summarizes what the kids did that day and gives them instructions for what they should do before they start their next lesson. Knucklehead is funny and evokes a lot of laughter in our house!
I don't think the program is perfect. There were a few things that were a little cumbersome/bothersome for me. These included:
There were volume changes now and then; some lessons were louder than others so I was adjusting volume now and then.
I found the concept of the notebook that the kids were encouraged to create to be a little bit vague. I almost think that if they want us to do that, it needs to somehow come with the program. We ended up deciding to just print out each lesson and staple it together and not do a full notebook. I just couldn't quite wrap my mind around exactly what it was I was supposed to do.
Occasionally I found that what Ms. Mora was doing in her fictional classroom got a bit confusing as we would be looking at a different story on our paper than they were doing in our classroom. There were a few times that I wished I had a bit more explanation.
Now and then I felt like she discussed something that I don't remember hearing about previously. It may have been that I missed the reference but if I missed it, I think maybe it needed to be re-referenced a bit more clearly.
However, there were some things we loved! These included:
Discovery Tickets. These are rewards for doing a good job. We let the kids collect them, and when they got 10, they got to go out on an ice cream date with Dad and Mom.
The basset hound. He was very entertaining.
Ms. Mora's energy. The boys were never bored which is really saying something.
The pace. I thought this was set up in a way that you can work at your own pace and not feel overwhelmed.
The ease of the program. The videos were easy to access and organized well.
What they learned. This really did what it was supposed to do, and I felt like the kiddos were truly learning about writing.
All that being said, this is a program that we
WILL
continue to use in our homeschool classroom. Writing has always been something that I find difficult to teach. It isn't like other subjects that you can follow along with and just do the next thing. It's more of a vague concept, and I think the
Here to Help Learning
program did a very nice job laying it out and truly helping me to
teach
my children to write. I absolutely do recommend this as a writing option for your homeschool classroom.